Dental Care Tips for Your Baby's Gums and Crowning Teeth:
Would it surprise you to know that good dental care for kids starts before the first tooth appears in your newborn baby's mouth? From the time they are born to when they get their first wisdom tooth pulled and well beyond, kids need to care for their teeth and their mouths, and they need their parents' help to do it.
When a baby is born, the first set of teeth is already there, just under the gums. The arrival of a baby's first tooth is always an exciting time! The front teeth usually begin to come through the gums between six and twelve months. Over the next 2 years, the remaining 'baby' teeth will appear. By the time a child is 3 years old, all 20 baby teeth will have arrived. These teeth are very important for eating, talking and smiling. They also keep spaces for adult teeth.
Whichever part of the world you live in, the road to great dental hygiene and avoiding tooth decay in children starts early, and parents should also be setting a good example for their children on how to care for their teeth. Here's everything you need to know about how to care for children's teeth.
Diet and a Baby's Dental Health :
Babies are not born with a sweet tooth. Babies will enjoy homemade baby foods without sugar. If you're buying baby foods, look out for the ones without sugar. You don't have to buy special juices either. Babies will enjoy ordinary fruit juice. For very young babies you should dilute the juice with plenty of cooled boiled water.
The best way of caring for baby teeth is to give food that helps a baby grow and develop. You can use the Food Pyramid as a guide – choose plenty of the foods from the bottom of the pyramid, and less of the foods at the top. You can see that sugary foods are at the top of the Pyramid.
Teething :

Small cute newborn baby infant teething
Some babies get sore gums when they are teething. Babies can get restless or irritable, and they might start sleeping or feeding badly. Sometimes this may lead to problems digesting food or to loose stools.
If baby's gums seem sore or baby seems cranky and dribbles a lot, there are some things that you can do to help.
Try giving baby something to chew on. There is a good selection of teething rings on the market – but make sure they are made of soft material and are big enough so that there is no danger of choking. Some parents/carers find that teething rings containing a fluid which can be cooled in the fridge are best. Milk cooled boiled water, or very diluted sugar-free fruit juices may help – sweet drinks do not.
Here are some dos and don'ts for caring for your baby's teeth.
Do wipe your child's growing teeth down twice a day.

Don't forget about flossing. As soon as teeth grow right next to each other, it's important to start using floss to keep the spaces in between clean.

Do get your baby to help with brushing as he or she grows older. Ideally, the child will take the lead on brushing at age 2 or 3, and you should allow this. Make sure you follow up with a good brush after the child is done, to ensure all the teeth have been cleaned.

Don't skimp on teeth cleaning just because you think these are baby teeth and they don't really matter. Baby teeth can get cavities, the same as adult teeth, and getting them filled can be a stressful process for a baby or child, let alone an adult.

Do make going to the dentist fun. If you don't treat it as a chore, your baby will enjoy it and be more comfortable in the chair as he or she ages.

Do brush your child's teeth after they take medicine, such as liquid acetaminophen for teething pain. There's sugar in medication that can lead to tooth decay.

Don't put your baby to bed with a bottle after he or she has teeth. This can also lead to tooth decay.

Keeping the toothbrush clean:

After cleaning your baby's teeth and gums, rinse the toothbrush with tap water. Store the toothbrush upright in an open container to allow it to air-dry.
If other family members' toothbrushes are stored in the same place, make sure the brushes don't touch. This reduces the risk that decay-causing germs will travel between brushes and into your baby's mouth. And there's no sharing when it comes to toothbrushes! One for each family member is best.
You should replace toothbrushes every 3-4 months, or when the bristles get worn or frayed.
Babies get a lot of pleasure and satisfaction from sucking things – including their own thumbs. There is no real harm in letting them suck their thumbs. Most infants will stop of their own accord. You can expect children to have given up sucking by the age of 4 years.
Thumbsucking is only really a problem if children go on sucking their thumbs after this age. Some children suck their thumbs very hard. This can pull their teeth out of shape. Children who suck hard should be helped to give up. If you want to help a child to give up sucking, remember that sucking makes the child feel contented and secure. Encourage the child to do other things instead.
Oral Hygiene for Kids (Dental Care – Proper Brushing):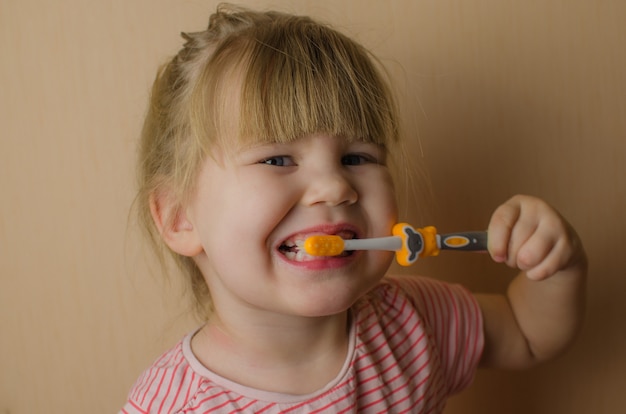 It's extremely important to instruct your child on how to brush his or her teeth properly. This is not an easy thing to learn. You must be vigilant to make sure that the child is brushing at least two minutes per day, the amount recommended by dentists. Have your child hold the brush at a 45-degree angle, brushing gently from gum to tooth.
"Gently" is the keyword — if your child saws away aggressively at the mouth, it could cause problems such as receding gum lines or tooth sensitivity in later years. Make sure the child covers every surface of the tooth, from the back to the top to the front.
Also remind your child to brush the top of the mouth and the tongue, moving the brush forward toward the front of the mouth. This gets rid of lingering bacteria in the oral cavity.
The best way to establish good baby dental care habits for your child in infancy and beyond is to set a great example. Children watch their parents like hawks and imitate everything they do. Act as a role model for great dental care. Eat the right foods and avoid sugary or staining beverages. Brush after every meal, floss once a day and go to a family dentist twice a year for checkups.
You can get a variety of kids accessories online here at Tinkersale. May it be a baby's teething products or kids clothing. You can find products easily at this online store.
You can also check our baby's relevant blog Newborn Baby Products – List of Items You Need.
Let us know in the comment below if this blog has been helpful enough to you.